Activities
Karen McCoy: SOUND / SIGHT WALK
Updated: 06-06-2016 21:44
Opening: 21-07-2016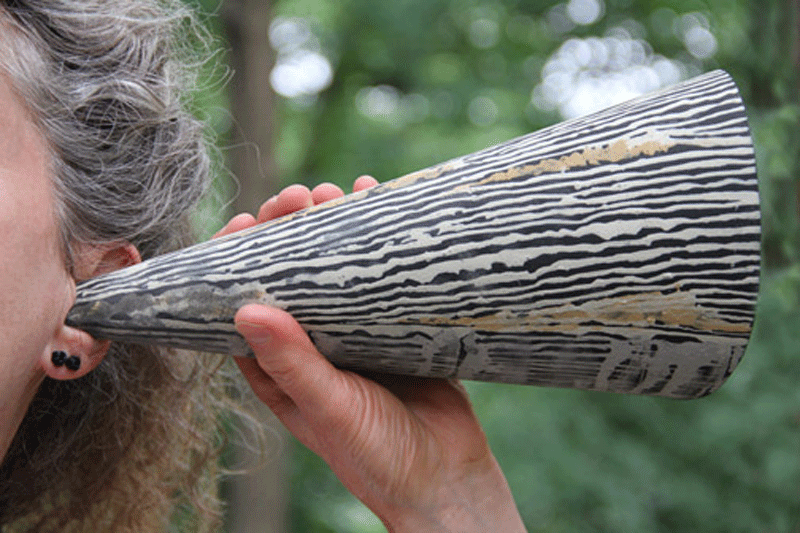 Photo: Robert Carl 
SOUND / SIGHT WALK
Two walks and a workshop with Karen McCoy
An event curated by the Milena principle / Made of Walking
With conical listening/seeing devices in hand, the Sound/Sight Walks place emphasis on contemplation of place and inherent sound. The use of the special instruments may alter and deepen our listening experience. Each "listening trumpet" may be considered a small sculpture prepared for opening a new way of experiencing aural and visual phenomena.
Imagining an experience, sculpting or composing it, in such a way that viewers must walk to discover it is, in itself, an act overlaid with many intentions. Each trumpet has its own special range and unique qualities of sound resonance as well as unique visual/tactile qualities. On the Sight/Sound Walks we often trade instruments to experience these differences. The emphasis is on increasing sensory perception through concentrating, focusing and isolating particular sounds and sights.

Thursday, 21st of July 2016 (afternoon)
Mnemotopias Walk (Memory of Place) in which pigments (soil, clay, sand, stones that leave marks) will be collected, along with personal topographical experiences which may leave residue in the memories of participants and on paper.
Friday, 22nd of July 2016 (morning)
Workshop: Using the found pigments (rubbed into or applied onto the surface of paper) participants will create personal memory maps of the Mnemotopias Walk. These papers will be formed into conical listening devices.

Friday, 22nd of July 2016 (afternoon)
Sound/Sight Walk Operating on similar acoustic principles to Beethoven's ear trumpets, paper and wooden trumpets are part of a series of devices used on Sound/Sight Walks. Several carved wooden listening trumpets will be available in addition to the folded paper cones made in the workshop. Placing the small end of the conical trumpet into the ear, the gathering capacity of the ear is extended and sound is brought more readily into the body. Using large or small apertures at either end to sight and frame an image, the trumpets may be used to isolate visual as well as aural phenomena. In this way the play of moving light and shadow may become like a miniature ephemeral "film", or the brilliance of green mosses or the patterns of lichens spread on a boulder, like miniature memory pictures that join with auditory experience to create an intangible version of landscape that may be overlaid upon the real-time experience of soil, stone, atmospheric conditions etc.
Biography:
Karen McCoy is an American visual artist whose work focuses on sculpture, environmental art, walking art, and land art. She resides in Kansas City, Missouri, where she is a professor in the sculpture department of the Kansas City Art Institute.
http://www.karen-mccoy.com/walking.html
---
← Back