Η Javascript πρέπει να είναι ενεργοποιημένη για να συνεχίσετε!
Πρόσωπα
GEERT VERMEIRE
Curator, poet, interdisciplinary artist / Belgium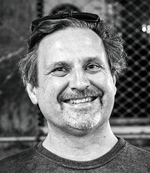 Βιογραφικό:
GEERT VERMEIRE is a curator, poet and an interdisciplinary artist, living and working between Brazil, Greece, and Belgium. As a collaborator and team member of escoitar.org, noTours.org, and CGeomap.eu, and co-coordinator of the global community event Sound Walk September he develops collaborative practices, departing from social practices and the ethical involvement of cultural action, together with (sound) artists and activists comprising ecologists, anthropologists, musicologists, engineers, and multimedia artists.
He is managing director of the Milena principle since 2003, an interdisciplinary art platform with a focus on ecology and science, and founder-coordinator of the global walking arts community "Made of Walking": in 2016 and 2017 with creative encounters organized in the frame of Animart in Delphi, and in 2018 and 2019 as well in France, Cyprus and in North-Greece.
In 2019 he co-founded "walk listen create", a global online platform for all walking creatives. Since 2019 he is as well co-coordinator of the e-Amazonia, interdisciplinary residency in the Amazon rainforest and a platform for digital arts with an ecological focus.
He was a visiting artist and lecturer in many art institutions and universities worldwide, for example in Parsons New School - New York, New York University, Boston Society of Architects, University of Sao Paulo, University of Brasilia, British Library, University of Edinburgh, University of Athens, University of Lisbon, RITCS Brussels, Academie des Beaux-Arts Brussels, next to working as a curator and as a poet in the cities above.
---
← Επιστροφή