Η Javascript πρέπει να είναι ενεργοποιημένη για να συνεχίσετε!
Πρόσωπα
Ros Bandt
International sound artist, Αυστραλία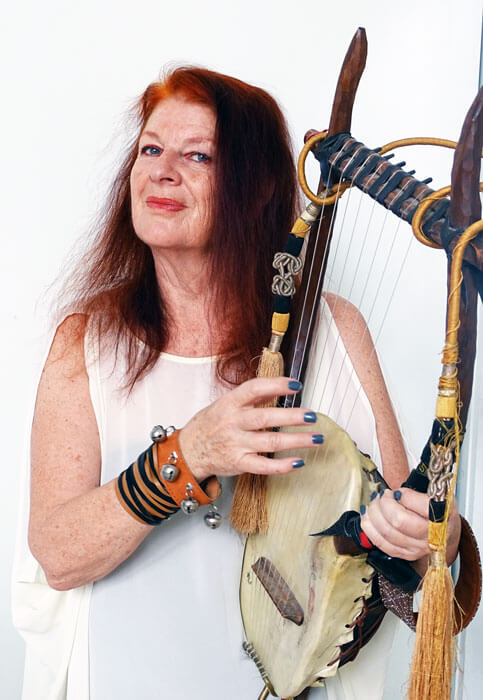 Βιογραφικό:
ROS BANDT is an award winning international sound artist, designer, composer, performer, multi-instrumentalist, curator and sound researcher. Her works blend the ancient and modern in surprising site specific ways. She has been "sounding" ancient sites" beginning with the award winning Mungo commissioned by the West Deutsche Rundfunk, the ABC and Goethe for the Sound Art Australia Prize, her first sonic archaeology. Since then she has sounded 7 world heritage sites.
In 2017 she was guest of honour for the Animart Festival in Delphi, Greece where she devised a week of site specific Sonic Metamorphoses including From the Castalian Springwith with Jon Drummond, The Tortoise and the Spider with Geert Vermeire's Made of Walking, and From the Pronaia "resounding" the Delphic hymns and Sibyline chants with ancient greek scholar Arthur McDevitt. Together they performed From the Sacred Oak, for the first Dodoni festival where she was described as the priestess of sound.
Ros Bandt is author of 3 books on sound including the international anthology Hearing Places, Cambridge Scholars Publishing.
She has a PhD in Musicology and is senior research fellow in e-scholarship research at Melbourne University where she directs the online gallery and data base: The Australian Sound Design Project (www.sounddesign.edu.au). She has an environmental acoustic sanctuary in the Australian bush where she is studying soundscapes in change with hydrophones and where Aeolian harps sing country (www.hearingjaarajaara2013.wordpress.com)
Ros Bandt, Guest of Honour Animart 2017
Sonic Metamorphoses, Museum of Delphic Festivals - House of Eva & Aggelos Sikelianos
From the Sacred Spring
The holy waters of the sacred spring have been  defining the future of Delphi ecologically and spiritually for thousands of years. In this work Jon Drummond and Ros Bandt made a hydrophone recording of the waters for an electroacoustic divination performed live, a sonic oracle celebrating the ecstatic acoustic environment of Delphi. The sacred waters are played through speakers and also activate the ancient Greek lyre through the transducer. This work was created as a gift to the Sikelianos museum celebrating all the artistic work that has gone before in this special place.
The Tortoise and the Spider
http://www.hearingplaces.com/the-tortoise-and-the-spider.html
An Ancient Ritual Performance: conceived and designed by Ros Bandt, created collaboratively with Made of Walking and friends at Sikelianos Amphitheatre to Parnassos, July 20, 10.p.m  Delphi, Greece  2017 
The Concept: 
A tortoise and spider metamorphose into a new creature, a giant walking people harp beginning a pilgrimage up Parnassus, in honour of Apollo. Delphi is a sacred site for the western world, Apollo's lyre and its tortoise carapace has been lingering in Parnassus for thousands of years. Here also the ladybird spider lives but is now endangered. Myth, nature and contemporary performance merge and come to light from the darkness. The identity of the tortoise, slow wise, intentional can benefit from the wily precariousness of the spider, with its many eyes and legs, spinning and weaving habitat for a new creature which comes into being through creative collaboration. This metamorphoses was created by soundartists, walking artists, dancers, choreographers, a weaver and  videographers. Together a giant walking people harp came into being from the fusion of tortoise and spider, beginning a processional offering from the Sikelianos Amphitheatre above the modern village of Delphi on the sacred Parnassus mountain. 

Thanks to all participants for sharing this continuing journey. The Tortoise and the Spider has begun its walking pilgrimage, making  its way from Europe to America and back to Australia, the only continent without Tortoises.
 
The Tortoise and the Spider –a sonic metamorphosis– was the fifth in a series of works conceived by Ros Bandt, invited guest artist for the 2017 Animart Festival directed by Vassilis Boutos. Geert Vermeire, director of the simultaneous Made of Walking event, offered to collaborate on the work, facilitating the participation of 10 walking artists/dancers and a weaver in Delphi and taking the work further and beyond. This site-specific work was designed to be created by all the participants together in situ. 
CREDITS
Made of Walking: Geert Vermeire: on-going curation and performance, co-ordinator and facilitator of the Dancers and weaver
Walking Performance Sound and Dispersion: Jon Drummond
Extra samples for the spider: Nefeli Stamatogiannopoulou
Choreography Walking Performance: Ros Bandt, Geert Vermeire, Katerina Drakopolou and the dancers / movement artists
Movement Artists / Dancers: Katerina Drakopoulou, Lina Efstathiou, Aliki Georgoulopoulou, Medea Kastanou, Marianna Makri, Eleni Nakou, Elefteria Rapti, Julia Rédei, Nefeli Stamatogiannopoulou, Ioanna Thannou, Chara Tzoka
Weaver: Alexandra Pambouka https://vimeo.com/252325677
VIDEO Aliki Arnaouti
Cameras: Aliki Arnaouti, Arthur McDevitt, Stefaan Van Biesen
IN AUSTRALIA  (http://www.hearingplaces.com/blog)
SEEN SOUND VIDEO LAUNCH AND LIVE PERFORMANCE
Loop Bar Melbourne, November 2017
Video by Alki Arnaouti with Geert Vermeir  
Ros Bandt and Jon Drummond performance, celebrating the video.
The Tortoise and the Spider, Ros Bandt and Friends.
Ros Bandt and Jon Drummond streamed live by Leah Barclay (www.hearingplaces.com) with an international audience of collaborative artists and friends watching in ATHENS, CYPRUS, BELGIUM, LONDON, AMERICA, PORTUGAL, SWITZERLAND, AUSTRALIA in real time (see hearingplaces website).
http://www.hearingplaces.com/the-tortoise-and-the-spider.html
Delphi, Amphitheatre
https://vimeo.com/252325677
Museum of Delphic Festivals - House of Eva & Sikelianos, Delphi, Greece
Honorary fellow e-scholarship sound design research University of Melbourne.
---
← Επιστροφή