Javascript must be enabled to continue!
People
Ros BANDT
Guest of honor of the 11th ANIMART 2017, Sound Artist, Australia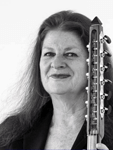 Curriculum Vitae:
Ros Bandt is an award winning international sound artist from Australia who has created a star studded practice of sound art, electroacoustic composition, sound installation, inventions, performances, original instruments, books, CDs and writings. She has made unusual environmental sculptures such as the 107 String Aeolian Harps at Lake Mungo, interactive mixed media installations such as the Coathanger installation with TVs, 1977, interactive sensored spatial music systems, audible paintings, sound playgrounds, permanent public art, live performance art with international artists, and played in bands from early music to noise.
Recently she has become the Tarhu nomad, divining her sensitivity to place through the bowed spike fiddle, and electro-acoustic site- specific recordings.
She has composed in five world heritage sites including Keramikos in Athens, the Yerebatan Cistern in Istanbul and Ggantija in Malta. She is famous for her soundings of unusual acoustic spaces such as wheat silos, water tank (her first vinyl, Improvisations in Acoustic Chambers, 1981), limestone quarries (Mt Gambier 1987), swimming pools (Florida 1989), salt mines (Austria 1993), historic buildings (Warsaw 1994), and Japanese underwater environments of the Ama (2005-8).
She has pioneered the use endangered sounds in her installations and radiophonic works since the nineties, contributing to environmental and sound culture awareness, recording and interpreting Indigenous and multi-cultural languages in change, native wild life, old machinery, lost classical languages, Goatherd songs of Crete, the endangered sound of the Isobue, Japanese Sea Whistle, and the fleeting sounds of Aeolian harps and casuarinas.
Her CD Sonic Archaeologies contains award-winning works of the archaeology of the land, Mungo and the archaeology of the word, Thrausmata, ancient Greek for Fragments. These were both commissioned by the Studio of Acoustic Art in Cologne at the West Deutscher Rundfunk. In 2009 Mungo was exhibited as an installation at the Artium Gallery Japan for the international Mind in Sound Exhibition.
She has just collaborated with international artists in Hania, Crete for the exhibition Listening through walls, interpreting ancient sites in Malta with tarhu and electronics, and touring Birdsong with Trio Avium, playing baroque recorders in Tuscany with Ornithologists.
In 2014 her commissions included Windharps for 10 harps installed in a giant spiders web for the International Harp Conference in Sydney and Raptor, a 6 channel electro-acoustic work for Arizona's ListenN festival.
Her music is elegant and lush, engulfing and demanding. Her sound palette and sound art are unique, sculptural and performative, such as playing glass music to videos of Jellyfish, or the outdoor Blue Gold on a lake with musicians, balance beam bamboo sculpture and video projections.
As well as her original work she curates large events such as Beaming the Theremin and Hearing Place international audioteque. She has founded the Australian sound design project online gallery and database of sound designs in public space in Australia, www.sounddesign.unimelb.edu.au.
With her other academic publications she won the award for excellence in academic research at the University of Melbourne.
She has a PhD in musicology from Monash University.
She has been awarded Australia's highest honours, the Don Banks Composers Award, The ABC sound artist in residence, the Sound Art Australia prize, the National Film and Sound Archive Cochrane Smith Sound Heritage Award, and in the USA, she became the Inaugural Benjamin Cohen Peace fellow for Innovation for her sound installation Altars of Power and Desire.
She is published by Wergo, New Albion, EMI, Pozitif, Move Records, L'agent des refuses, Cambridge Scholars Press, Fine Arts Press, The Australian Music Centre, Sonic Gallery, and Hearing Places
---
← Back