Javascript must be enabled to continue!
People
The Classical Drama Society at Tokyo University,
Japan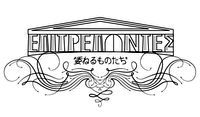 Curriculum Vitae:
The Classical Drama Society at Tokyo University was created in May 2014 by students of the Department of Classical Studies and succeeded the Ancient Tragedy Club (founded in 1950) at the same University. The University of Tokyo is the best Japanese university and one of the best worldwide. The University's Greek Tragedy Club which was founded in the 1950s and has featured members who went on to become important figures in the field of ancient Greek studies in Japan, such as Professor Shigeichi Kure (1897-1977) and professor of ancient Greek literature Masaaki Kubo.
— The play EPITREPONTES (The Arbitration) by Menandros, which has been successfully performed in Tokyo on March 25-26, 2015 and in Kyoto on September 26-27 of the same year, continuing the academic tradition in the ancient Greek theater, will be presented in Delphi on July 14, 2017 within the framework of ANIMART, in minimum reward for Japanese students who honor Greek culture.
---
← Back