GALLERY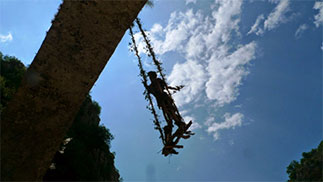 Artistic Statement on the Kokkori bridge
Bridge of Kokkori Animart 2014 Experiential Art School in Zagorochoria
floroieikastikoi.blogspot.gr
eetf.uowm.gr
---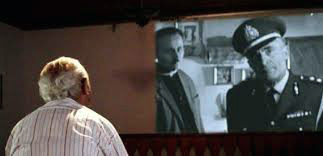 NOOSE, 12'
Greece 2013
Directed by Vassilis Loules and Students of the 7th ANIMART 2013
Screenplay: Vassilis Loules and Students of the 7th ANIMART 2013
Cinematography: Irene Androulaki, Vassilena Mitsiadi
Editing: Dimitris Savvaidis, Chronis Theocharis
Sound editing: Valia Tserou
Visual editing: Yiorgos Paterakis
Production: Vassilis Loules
Co-production: Art/EAC
In 1969, Theo Angelopoulos shot his first feature film "Reconstruction" in the village of Monodendri in Ioannina. In the summer of 2013, Lefteris Rizos, a permanent resident of the village who was an extra in this important film, talks about the noose that was slipped round his neck to serve the needs of the script. A brief existential comment. The noose in the film, the morality of its heroes, Lefteris's life with the film crew, the experience that marked him, the comments on his own personal life and ethics, the friends who have passed – everything now acquires a different meaning for him as he looks back with the wisdom, the bitterness and the humor of his 92 years.
The participants of the 7th ANIMART 2013 documentary workshop
Irene Androulaki, Irene, Gotsi, Christina Kanellopoulou, Dimitra Karavassili, Christina Marselou, Vassilena Mitsiadi, Katerina Batzaki, Thanassis Nikolaidis, Elpida Pavlisevits, Sergios Plachouris, Sonia Rapti, Anna Fotopoulou
* The documentary is screened in Thessaloniki Documentary Festival (March 14-23, 2014) and some other events in Greece and to abroad.