Javascript must be enabled to continue!
Events
SAPPHO IN THE LAND OF THE CHRYSANTHEMUMS / 菊の国のサッフォー
EVENTS
Opening: 15-07-2017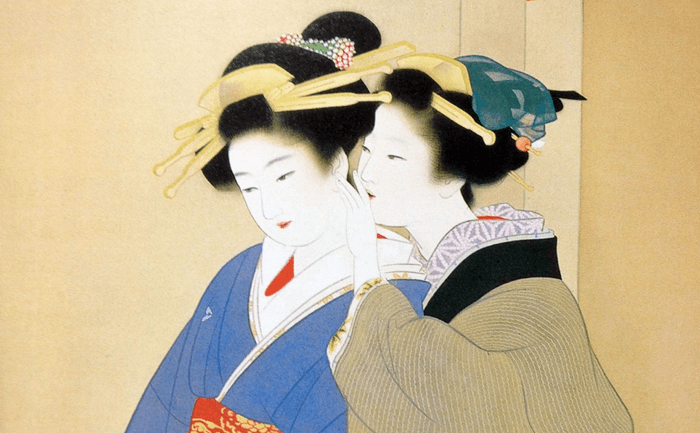 Whispering Beauties, by Uemura Shōen (1875–1949), Japan
SAPPHO IN THE LAND OF THE CHRYSANTHEMUMS / 菊の国のサッフォー
A Greek-Japanese homage to the archaic Greek poetess Sappho.
15 July 2017
Delphi, Greece
In collaboration with:
a. Laboratory of Music Acoustics and Technology, Department of Music Studies of the School of Philosophy of the National and Kapodistrian University of Athens (http://en.labmat.music.uoa.gr)
b. The Lab of Environmental Communication and Audiovisual Representation (LECAD), Department of Architecture at the University of Thessaly, Greece (http://lecad.arch.uth.gr/el/profile)
c. The University of Tokyo, Japan (http://www.u-tokyo.ac.jp/en/index.html)
d. Futaba Sato, Junko Nagata, Ioannis Stratakis.
SAPPHO 
01. Some say horsemen, some say warriors,
Some say a fleet of ships is the loveliest
Vision in this dark world, but I say it's
What you love.
月は入り
すばるも落ちて
夜はいま
丑満の
時はすぎ
うつろひ行くを
我のみは
ひとりしねむる
断片52 (呉茂一) translated by Prof. Shigeichi Kure
02. The moon has set
And the Pleiades;
It is midnight,
The time is going by,
And I sleep alone.
Translated by Henry Thornton Warton, 1887
03. Come back to me, I beg you, Gongyla!
Show yourself to me again
wering the milk-white robe!
Oh, what beauty!
If you but knew what passions you excite, thus adorned!
And how joyful I am that it is not I,
…but the Goddess of Cyprus hershelf…
People:


---
← Back