Workshops
VISIONARY LITERATURE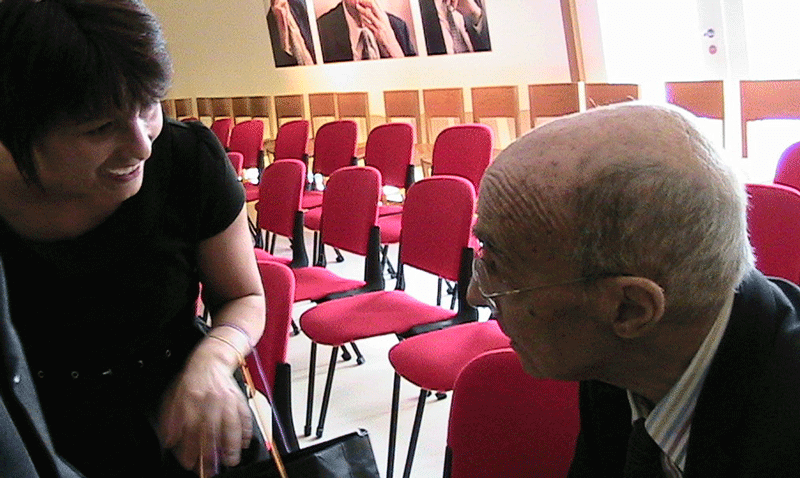 Photo: Simona Vermeire and Jose Saramago
Date: Will be announced
Venue: Delphi
Hour: Will be announced
Free admission
WORKSHOP

Within a theoretical framework built within the interdisciplinary platform SinfoSaramago http://www.themilena.com/sinfosaramago.html, taking recourse to the comparative literature, and particularly, to the cultural studies, to encompass the recent perspective about the universal evolution. Pointing out the 'visionary' character of fictional texts, we explore a deep understanding of our contemporary way of life and underlining the fictional devices as an adaptation of the mind to the new evolutionary challenges.
Reading plants / a humanistic approach of the plants in the field of Comparative Literature and Cultural Studies in particular, departing from the theoretical principles of Consilience (Wilson, 1998) suggesting an epistemological unification of sciences and humanities. Contextualized within Environmental Humanities, and relating to the plants in the work of Thoreau, the workshop is inspired by the emerging Critical Plant Studies, focusing primarily on the American author, one of the pioneers in the literature and philosophy for his ecological views and experiences, emphasizing the 'visionary' character of the literary work in exegesis, considering that the author has developed fictional and scientific clues for a deeper understanding of the awareness in the plant world.

Tutor:
Dr. Simona Vermeire (Portugal)
PhD in Comparative Literature, University of Minho Portugal. MA in Image Studies, University of Bucharest. Researcher with fields of interest the connection between literature, arts and science, relating to Spaziergangwissenschaft - promenadology and the concept of consilience (Edward O. Wilson, The unification of science and humanities).
---
← Back