EVENTS
Warning
: Undefined array key "gallery" in
/home/animart/public_html/scripts/functions.php
on line
429
THE NOOSE / LELA KARAYANNIS, THE FRAGRANCE OF A HEROINE
Updated: 26-05-2014 23:13
Opening: 14-07-2014 22:00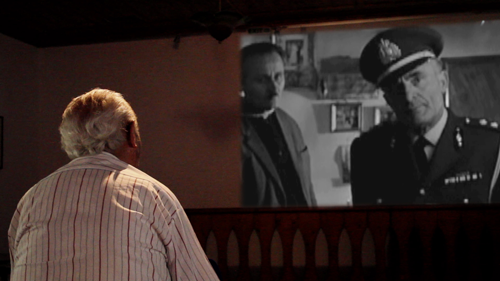 Film director Vassilis Loules will present two of his short documentaries: «The Noose» that was shot in Monodendri village within the frame of last year's ANIMART Documentary Workshop (is now being shown in Universities in the USA) and the second film "Lela Karayannis, the fragrance of a Heroine", that was the very first step of his attempt to shed light into History through personal, little stories.
Discussion with the audience will follow.
THE NOOSE, 12'
Greece 2014
Directed by Vassilis Loules and Students of the 7th ANIMART 2013 Documentary Workshop
Screenplay: Vassilis Loules and Studens of the 7th ANIMART 2013 Documentary Workshop
Cinematography: Irene Androulaki, Vassilena Mitsiadi
Editing: Dimitris Savvaidis, Chronis Theocharis
Sound editing: Valia Tserou
Visual editing: Yiorgos Paterakis
Production: Vassilis Loules
Co-production: Art/EAC

In 1969 Theo Angelopoulos shoots his first feature film «Reconstruction» in the village of Monodendri in Ioannina. In the summer of 2013 Lefteris Rizos, a permanent resident of the village who was an extra in this important film, talks about the noose that they slipped round his neck to serve the needs of the script. A brief existential commentary is born through when the film is screened for him 44 years later. The noose in the film, the morality of its heroes, the life of Lefteris with the film crew, the experience that marked him, the comments on his own personal life and ethics, the friends who have gone - everything now acquires a different meaning for him as he looks back with the wisdom, the bitterness and the humor of his 92 years.
The participants of the 7th ANIMART 2013 documentary workshop:
Irene Androulaki, Irene Gotsi, Christina Kanellopoulou, Dimitra Karavassili, Christina Marselou, Vassilena Mitsiadi, Katerina Batzaki, Thanassis Nikolaidis, Elpida Pavlisevits, Sergios Plachouris, Sonia Rapti, Anna Fotopoulou
* The documentary was screened in Thessaloniki Documentary Festival (March 14-23, 2014) and in some other events in Greece and abroad.
---
LELA KARAYANNIS, THE FRAGRANCE OF A HEROINE, 30'
Greece 2005
Written & Directed by: Vassilis Loules
Cinematography: Constantinos Tsekouras
Editing: Takis Koumoundouros, Dimitris Giannakopoulos
Music: Vangelis Fambas
Produced by: Hellenic Broadcasting Corp. - ERT SA
The film is focused on the struggle and personality of Lela Karayannis, the legendary heroine of the Greek Resistance, through the tender look of her son Giorgos.
Persecuted during the German occupation, he was meeting his mother in secrecy for the needs of the Struggle.
But even in those hard conditions, he had the chance to enjoy the heroine's tenderness and affection, as she never ceased to be a mother.
Illegally shot footage provide us some rare images of occupied Athens, while the fragments of Giorgos' memories still bear the fragrance of "Violetta di Parma", Lela Karayannis' favorite perfume.
Fragment of the film: http://www.youtube.com/watch?v=GJ5LNU0Ar3k  

---
← Back