TUTORS
ARIELI Nir
- Photographer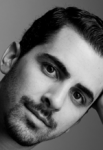 Nir ARIELI was born in Tel Aviv, Israel, in 1986. He lives and works in New York, USA.
Nir launched his career as a military photographer for the Israeli magazine Bamachane, before receiving a scholarship to pursue a BFA at New York's School of Visual Arts; he graduated with honors.
Nir's photographic passion is within the portraiture and dance fields.
He is an admirer of gentleness, complex beauty and physical intelligence.
Nir is represented in NYC by Daniel Cooney Fine Art gallery, in North Carolina by MoNA gallery and in Israel by Pinzeta initiative. His first solo show "Inframen" was on view at Daniel Cooney Fine Art gallery from January until March 2014.
Exhibitions:
Solo:
Inframen, Daniel Cooney Fine Art, NYC, 2014
Men, Nice Queer Film Festival, France, 2014
Tension, Sharp Theater, The Juilliard School, NYC, 2012
Men, The Cinemateque, Tel Aviv, Israel, 2010
Soft War, Beth Shalom temple, Santa Fe, NM 2008
Group:
"So Well-Suited", Museum of Greek Folk Art, Athens, Greece, 2013
"I Think I Am The Water", MoNA Gallery, North Carolina, USA, 2013
"FOTOGRAFIA", MoNA Gallery, North Carolina, USA
"Pinzeta 3", Studio 211, Tel Aviv, Israel, 2012
"Homography", Shpagat Bar, Tel Aviv, Israel, 2012
"Souls", SVA main building gallery, NYC, 2012
"Mentors", Visual Arts Gallery, NYC, 2012
"B&W", The Red House Gallery, Tel Aviv, Israel, 2011
"What is Gender?" WHcreation, virtual gallery, 2010
Awards and Grants:
PDN 30 New and Emerging Photographers to Watch , Nominee 2013
"Who's Next" - 2013 Talents to Watch by Next magazine 2013
PDN "faces" 1st place winner, personal work category, 2012
5th Year Award recipient, by Gotham Imaging and FotoCare, 2012
Google Photography Prize, finalist, 2012
The Tierney Fellowship, Nominee, 2012
Silas H. Rhodes scholarship, 2009-2012
SVA Photography Department award, 2009,2011
W. Magazine "In A Fashion Minute Video Contest", finalist, 2010
Lectures and Artis Talks:
PIA, Salmagundi Club, NYC 2014
Daniel Cooney Fine Art, (Inframen artist talk), NYC 2014
Red House (story of modern man), Tel Aviv, 2013
Park west camera Club, NYC, 2013
NYC PhotoGroup Salon, SoHo Photo Gallery, NYC 2012
International Center of Photography (ICP), NYC, 2012
Temple Beth Shalom, Santa Fe, NM, 2008
Education:
SVA - Teacher's assistant/substitute 2012-2014
School of Visual Arts, New York, B.F.A (Honors), 2012
Bamachane (IDF official magazine), Israel 2004-2007
WORKSHOP
Tutor: Nir Arieli
Tilte: THE PROCESS OF MAKING A CONTRUCTED PHOTOGRAPH
Three dimensional methods of constructing an image in the digital age
Dates: (Will be announced soon)
Description:
In the workshop, we will photograph and critique, focusing mainly on portraiture.
Assuming most images created in the world are not fulfilling their full potential, we will ask ourselves when do we stop in the process of making a successful image.
Then, we will identify and perform additional methods of making the same image.
We will "attack" each image we're invested in from a three dimensional perspective, altering composition, light, angle and our roles as directors.
FLOWERHEAD by Nir Arieli, 2014, 32x48 inch, edition of 4 
www.nirarieli.com

---
WORKSHOPS
---
← Back