TUTORS
GEORGAKI Anastasia
- Assistance professor, Music Department, University of Athens, musician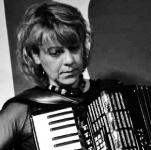 Anastasia Georgaki was born in Lefkada.
She studied Physics (University of Athens) and Music (accordion, piano, harmony, counterpoint). She studied also Computer music and music informatics at IRCAM (DEA and PhD in Music and Musicology of the XXth century).
During the period 1995-2002 she has been teaching Musical Acoustics and Computer music at the Music Department of the Ionian University at Corfu where she has been elected lecturer in 2001.
She has participated in many computer music conferences and has published a number of articles concerning the synthesis of the singing voice, the interactive music systems and the Greek electroacoustic music; she has been a member of the organising committee of two symposia on Music and computers (Ionian University) and the International Symposium Iannis Xenakis (University of Athens).
She was member of the organising committee of the IVth sound and music computer conference 2007 which will take place in Lefkada island during 11-13 July 2007.  
She has collaborated also with the Greek research institute ILSP in music information retrieval European projects (Wedelmusic).
Since October 2002, she is lecturer in Music Technology at the Music Department of the University of Athens.
She is actually collaborating with the Computer science department (University of Athens) on physical modelling of Greek traditional instruments and Greek singing modelling.
She is a professional accordion player (www.novitango.gr), having  many concerts all over Greece with her quintet.
Her research projects focus on controlling synthetic voices through a MIDI-accordion in an electroacoustic music environment, archiving of Greek electroacoustic music, aesthetics of the applications of new technologies in music creation,  music technology and visual music and other.
---
WORKSHOPS
---
← Back