TUTORS
GKANAS Michalis
- Poet, Honor of Guest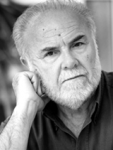 Michalis GKANAS was born in 1944 in Epirus, in northern Greece.
Since 1962 he lives and works in Athens.
He has published seven books of collected poems, one book of fiction, one book of «short and very short stories», lyrics for songs by well-known Greek composers and a loose interpretation of the «Song of Songs» («Song of Solomon»).
His poems have been translated into many european languages.
His entire, up to the present, poetic work was published in 2013, in the collection «Poems 1978-2012».
Distinctions: In 1994 he was awarded the State Prize for Poetry for his book Παραλογή.
In 2009 he was the winner of the Cavafy Award.
In 2011 he was honored with the Athens Academy Award for his entire body of work.
---
← Back