TUTORS
KALLONA Marietta
- Visual Artist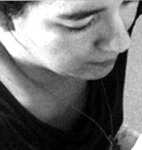 I am half-Japanese, half-Greek and grew up in London.
As a marine biology student I came to Iraklio, Crete.
We were a huge group including Spanish, Italians and Irish and every weekend we would all bundle into two or three battered cars and make our way to the beaches of southern Crete.
We would trek for up to 7 hours in the wild mountainous landscape until we reached some deserted beach where we would stay the weekend.
I fell in love with this side of Greece.
Later I was a volunteer for the sea turtles in Zakynthos and then in charge of rehabilitation at the Sea Turtle Rescue Centre, Glyfada, living in a train wagon for 14 months and working with volunteers from all over the world.
Apart from rehabilitating sea turtles we renovated the train wagons.
I realised that I was happiest when working with my hands.
I started to make papier mache and I thank Benaki Museum shop for accepting my "animals", giving me the courage to continue exploring and playing around with paper.
I learnt origami from my mother but I was very resistant to using it.
I wanted to do something that was my own.
Then I took part in a Paper Fashion exhibition "RRRIPP!!" organised by ATOPOS.
I made paper dresses for Benaki's shop, not for the main exhibition, but it was very inspiring to be part of this event.
On the closing days of the exhibition we made paper clothes for the visitors.
I had great fun making paper neckties.
Each child or adult chose their piece of paper with great thought and I loved seeing their look of satisfaction when they wore their necktie.
After that I found ways of incorporating origami into lights lit up with LEDs, which are influenced by my memories in Japan. In 2012 I started engraving lessons, papermaking and in 2013 I took part in a Seminars and Workshop for silkscreen printing.
I also make paper with other people.
My dream is to work in a space with others where everyone can do their own thing and see what we can come up with together.
To hold events where people can come in and try papermaking, engraving, screen printing, origami and more…
Marietta KALLONA
Participation
- "Embroidery Circle" @ Fo Kia Nou 24/7, with Blanka Amezkua, started June 2014
- Group exhibition at the Ergastiria Texnis, Agia Paraskevi, June 2014
- "Polemical notices", Typography and silkscreen workshop with Tind and V. Georgiou, Traces of Commerce, May 2014
- "Zine making workshop", with These are a Few of Our Favorite Things, Traces of Commerce, May 2014
- Papermaking workshop, with the Silk Bastards, March 2014
- "Print it Yourself", Seminars and Workshop, with Tind, Silk Bastards and Antonis Daktilidis, November 2013
- Origami / paper creations with children 5-12yrs, at the 4th Dimotiko Holargos, 2010-2013
- Scenery for "Through the looking glass and what Mira found there", Martinos Gallery, Athens, December 2013
- Group exhibition with the Ergastiria Texnis, Agia Paraskevi at Technopolis Gazi, July 2013
- "Zoo", group exhibition, Martinos Gallery, April 2013 - "All in Red", group exhibition, Martinos Gallery, March 2012
- "RRRIPP!! Paper Fashion", by ATOPOS, 2-day closing celebration, Benaki Museum, April 2007
http://www.yeti-toys.gr/index.htm 

---
WORKSHOPS
---
← Back