TUTORS
KASO Ilir
- Academy of Arts in Tirana, visual artist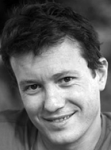 Ilir KASO was born in 1982, in Përmet, Albania.
He graduated in 2005 from the Academy of Arts in Tirana and since then, he has been guest professor at the Faculty of Figurative Arts.
He won the special award for the experimentation in graphic style "Balkanima", in 2005.
In 2007 he won the "AMC" award as the best Albanian contemporary artists.
He is also winner of public's choice award "TIFF", in 2009.
In 2010 he received the award for the best image in "Antifest ROZAFA".
Whereas in 2012 he received the best Albanian animated movie award, by the Festival of the Albanian Film.
Ilir is the author of three personal exhibitions:
"Ëndërrimtarë të realitetit" (Dreamers of Reality) FAB 2012
"Oxymoron", Lokal-int, Biel-Bienne, 2012
"I am the river", Beton 7 (Athens) – Miza (Tirana), 2013
One of his works is part of the collection of the Museum of Contemporary Arts Biel-Bienne, Switzerland.
He is currently doing a master study for Visual Anthropology at the Institute of Albanology Studies in Tirana.
EDUCATION
2001-2005 / University of Arts, Tirana, Albania
2011- 2013 (expected) / MSc in Anthropology, Institute of Cultural Anthropology and Art Studies, Tirana, Albania.
2006 - currently / Lecturer in the Graphic department, University of Arts, Tirana, Albania.
2013 / Member of Advisory Committee in ANIMART - Experiential Art School, Monodendri, Joaninna, Greece.
AWARDS
2012 / Winner of "BEST ANIMATION FILM" Prize in "Albania Film Festival".
2010 / Winner of "BEST IMAGE" on "AniFest ROZAFA" International Children's Animation Film Festival, 1st Edition.
2009 / Winner of "PUBLIC AWARD" on "TIFF" Tirana International Film Festival 7th Edition.
2007 / Albanian Mobile Communications award for the Best Contemporary Artist, National Competition.
2005 / Winner of the "Special Diploma" for experimental in graphic and drawing animation, International Festival of animation "Ballkanima", 2nd edition.
CURRICULUM ACTIVITIES 
2014 – 2015 / Participant in the project "ArTVision", "Communication networks", Albania, Montenegro, Croatia, Italy, www.museopinopascali.it
2014 / Participant in "paMUR", curated by Vladimir Myrtezai (Grosha), National Museum of History, Tirana, Albania.
2014 / Coordinator of the Festival of Book and Visual Arts, in National Museum of History, Tirana, Albania.
2013 / Group exhibition "Udhet" curated by Ermir Hoxhaq, "Fab" Gallery, University of Arts, Tirana, Albania.
2013 / Solo exhibition "I am the river" Beton7 gallery, Athens, Greece. / Miza (the fly) Gallery, Tirana, Albania.
2013 / International jury member in ANIBAR, International Animation Festival, Peja, Kosovo.
2013 / Participant in 8th Konitsas Sumer School in Anthropology, Ethnography and Comparative Folklore of the Balkans. University of Ioannina, Greece. Organiser of the project Crossing Borders.
2013 / Participant in 7th ANIMART, organiser of the workshop in pihole photography, Monodendri, Greece.   
2013 / Group exhibition, in "Poétique du Temps", curated by Anne Jean-Richard, Martigny, Switzerland.
2012 / Group exhibition "Concrete Mushroom" Kunstraum Riehen, Basel, Switzerland.
2012 / Solo exhibition "Oxymoron" in Lokal - int, Biel, Switzerland.
2012 / Participant in 7th Konitsas Sumer School in Anthropology, Ethnography and Comparative Folklore of the Balkans. University of Ioannina, Greece.
2012 / Group exhibition "D case" curated by Ardian Isufi, Hekla Center, Tirana Albania
2012 / Solo exhibition "Reality dreamers" curated by Ardian Isufi. Fap Gallery, University of Arts, Tirana, Albania.
2012 / Group exhibition "Udha" curated by Suzana Varvarica Kuka, Tirana, Albania.
2011 / Group exhibition "Guri Madhi" curated by Suzana Varvarica Kuka, Korca, Albania.
2011 / Group exhibition "My Odisea" Hekla center, curated by Ardian Isufi, Tirana, Albania.
2011 / Participant in Balkan Snapshots Festival, Kriterion, Amsterdam, Holland.
2011 / Participant in "Dokufest", Prizren, Kosovo.
2011 / Participant in Fototage, "Journées photographiques de Bienne", curated by Hélène Joye-Cagnard and Catherine Kohler, Bile, Switzerland, www.jouph.ch
2011 / Part of the project "Individual Utopias Now and Then", participant in the 1st workshop "Memory revived", Sarajevo, Bosnia Herzegovina.
2011 / Participant in "Ardhje" exhibition organized by Tika, curated by Tina Finnäs, Tirana, Albania.
2011 / Participant in the 1st workshop "Who is afraid of the big bad crises" Skopje, F.Y.R. of Macedonia.
2011 February / Video art in Experimental Dance Theatre " Ne-Ku-Nder" " We Against", Tirana, Albania.
2010 / Participant in the 1st Edition on "Albanian Film Festival" Skopje, F.Y.R. of Macedonia.
2010 / Participant in the 1st Edition on "AniFest ROZAFA"(International Children's Animation Film Festival) Shkodra, Albania, Winner of "BEST IMAGE"
2010 / Participant in Council of Ministers of Culture of South East Europe, Cetinje, Montenegro.
2009 / Participant in the 7th Edition on "TIFF 2009" (Tirana International Film Festival) Tirana, Albania, Director, scripter, animator of the animation movie " THE CAMION". Winner of "PUBLIK AWARD" 
---
← Back