TUTORS
KONTOSPHYRIS Harris
- Department of Applied and Visual Arts, University of Western Macedonia, Florina, visual artist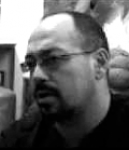 Harris KONTOSPHYRIS
Assistant Professor at the Department of Applied and Visual Arts of the University of Western Macedonia, Florina.
He was born in Lesbos on 1965. Lives and works in Athens.
Studied stage and film directing in Athens, 1984-1987.
Studied at the Athens School of Fine Arts (ASKT), 1987-1993.
He has participated in the 3rd Biennale for Young Artists of the Mediterranean, in Bologna, Italy (1988), in exhibition of DESTE Foundation (1991), in Configura2 Erfurt, Germany, (1995), with installations in the Festival of the Street in Izmit, Turkey, (2001), among (1999-2001) in Fyrogia Monastery in Sifnos and in Kydoniaios Foundation in Andros (2007).
In 2004 he presented "Athens-Beijing" in Athens (in cooperation with Cheap Art Context Gallery), in the 26th Biennale of Sao Paulo, Brazil (2004) with Irini Savvani as the Commissioner and in the 2nd International Beijing Biennale (2005).
In 2007 he presented "Adorno in Love" in Globe Gallery Newcastle, England and he curated along with the artists Zoi Pappa and Christian Rupp the international art exhibition "Trauma Queen" in Athens.
In 2009 he presented his solo exhibition "Electric Home" in Zoumboulakis Galleries, Athens and he participated in the 2nd Biennale of Thessaloniki in the group exhibiton "Praxis: Personal=Political" curated by Theodore Marrkoglou and Areti Leopoulou.
Totally, he has had 19 solo exhibitions and he has participated in many group exhibitions in Greece and abroad.
In 2003 he publishes his book "Inflector" by futura Editions, Athens.
In 2010 he publishes his book "Inflector+" by futura Editions, Athens.
Since 2007 he was teaching at the Department of Plastic Arts in the University of Ioannina.
In 2010 he was elected as Assistant Professor at the School of Fine Arts in the University of West Macedonia (city of Florina).
M.: +30 697 40 66 236
Address:
42, Veranzerou str.
10432 Athens
Greece
---
← Back