TUTORS
PITTAS Konstantinos
- Photographer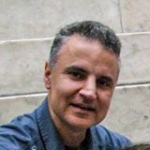 Constantino PITTAS was born in Athens.
He studied Civil Engineering at the National Technical University of Athens and as a post- graduate in France.
After two short years as an engineer, he bought on 1984 a small camera and started photographing people in the streets of Athens.
At that moment he knew nothing about photography, he learnt by seeing and working in the streets on a daily basis.
In a few months time, a corpus of 50 "acceptable" photos of Athenians was made.
This project ("Athens, 1984") is on a web galley today (see link below).
On the next year (1985) he left again Greece to travel in Eastern Europe.
For the next five years he travelled and lived in the East and West of Europe, working on photographing assignments for greek and foreign publications.
He witnessed the fall of communist regimes on 1989.
On 1991 he returned home to establish a business for a living.
He ran a successful commercial and advertising photography studio for 22 years.
He made also the photos of several books. He travelled extensively in Greece to photograph the Greek wine world specializing in wine photography.
The recent crisis in Greece gave him time and the desire to return to his first love: street photography.
http://constantinospittas.zenfolio.com/

http://www.wine-photos.org/

https://www.facebook.com/constantino.pittas

---
WORKSHOPS
---
← Back