TUTORS
ROZI Angeliki
- Theatrologist, University of Patras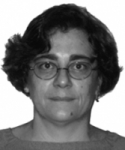 Aggeliki RΟΖΙ
Assistant Professor at the Department of Theatre Studies, University of Patras.


Her research and teaching interests focus on the history and theory of 20th century European theatre, and on the different theoretical paradigms that inform the study and analysis of plays and films (poststructuralism, psychoanalysis, cultural studies, postcolonial theories).

Her publications include studies of contemporary French, Francophone and Modern Greek playwrights.
---
← Back