WORKSHOPS
Papermaking Workshop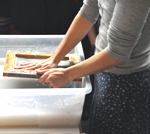 Tutor: Marietta KALLONA
Date: Tusday 14th, 2014
Duration: Two hours
In Japan, making handmade paper from plant fibres is connected with the forces of nature - the wind, rivers, the winter cold, the plants and the mountains.
The word for paper in Japanese is "kami" which has the same sound as the word for the gods and spirits.
The basic method of papermaking has not changed since a Buddhist monk brought this well-kept secret from China to Japan around 610 A.D.
In the workshop you will have the chance to make your own handmade paper, from recycled papers and plant fibres, from plants that we will have gathered together in Monodendri.
---
TUTORS
---
← Back