Tutors
PΕCQUET FRANΚ
- Professor, Université Paris Ι, Panthéon Sorbonne, France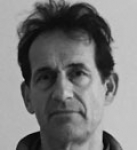 Frank Pecquet was born and resides in Paris, France.
Composer, musicologist, author of works of acoustic and electronic music and articles on contemporary music. Professor of computer arts at the University of Paris I Panthéon-Sorbonne. Associate of ACTE (Art Creation Theory and Esthetics), Semiotic of Art and Design, CNRS.
PhD in musicology from Paris University with D. Charles and I. Xenakis. PhD in computer music from the University of California, San Diego (USA) with M. Feldman, B. Ferneyhough and R.D. Moore, IRCAM, with T. Murail.
Last major work Mindscape, for orchestra and electronics, Commissioned by Radio France. Currently working in the field of sound design.
---
← Back