Tutors
TILIGADIS KONSTANTINOS
- Assistant Professor, Department of Audio & Vusual Arts, Ionian University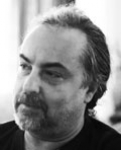 Konstantinos Tiligadis was born in Athens in 1967.
He is Assistant Professor at the Department of Audio and Visual Arts, Ionian University, in field of Painting, specializing in three dimensional Digital Representation (3D Animation).
He studied painting under N. Kessanlis and scenography under G. Ziakas at the Athens School of Fine Arts (1990-99).
With a Greek state scholarship (1994-95) he attended painting, sculpture, model in motion and photography at the Academy of Fine arts in Seville, Spain.
He got his Masters degree in Digital Arts from the Athens School of Fine Arts (2000-03).
His work has been exhibited in several venues and art festivals and he was awarded the 1st prize for Olympic Truce Through Painting (2004) in Damaskus, Syria.
His work is part of private collections, museums in Greece and abroad.
He has collaborated with the Eugenides Foundation (Planetarium) for the making of a 3D film in the framework of the Cultural Olympiad (2004) and he has participated in many conferences and research projects.
He taught at the undergraduate program of the Athens School of Fine Arts (2003-2009), at the Masters program Digital Arts, A.S.F.A. (2006) and at the Technical Educational Institute of Athens (2007) at the department of Graphic Design.
Selected Works

2011 Untitled / Video Projection, 3:00
2009 Teapot / 3D Video Projection, 1:00
2006 Zeugma / Interactive video installation, dimensions 200Χ90cm
2005 Re-Genesis / Interactive Installation, dimensions 500Χ450cm, Eugenides Foundation, Planetarium, Athens
2004 DUO / Interactive performance - installation (in collaboration with Andreas Sitorengo), Mediaterra festival
2003 Study for Nocturnal Landscape for Vagner / 3D Video, 00:36
2001 Status / Video Installation, dimensions 5x5m
1992 Fractals / Installation, student project, dimensions 20x20cm
http://avarts.ionio.gr/el/department/teaching-staff/332-tiligadis/
---
WORKSHOPS
---
← Back