Tutors
WILSON - BOKOWIEC JULIE
- Vocalist, Performer, Visiting Research Fellow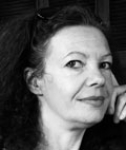 Dr. Julie Wilson - Bokowiec is an accomplished physical performer and musician, and she is currently a visiting research fellow within the Music Department, University of Huddersfield, UK.
She has worked with such luminaries as Lindsey Kemp, the Austrian artist Hermann Nitsch and Genesis P-Orridge among others.
She has created original work for opera and music theatre and has written and produced a number of award-winning stage plays.
With Mark Bokowiec are award-winning artists that have developed a significant international reputation as innovators in the field of interactive sonic art and are considered experts in the field of live gestural interaction and the manipulation voice and sound processing with the Bodycoder System©.
Their work is frequently programmed at international digital arts festivals and has been supported by The British Council, Banff Centre for the Arts (Canada) and the Arts Council of England.
They have been commissioned by the Science Museum London, Wellcome Trust wing (LSM), Wakefield City Art Galleries among others and have created new works in residencies at Banff Centre for the Arts (Canada), STEIM (Amsterdam) the Confederation Centre for the Arts (PEI Nova Scotia) the Traffo Theatre (Budapest), Dartington College of Arts (UK) among others.
---
← Back